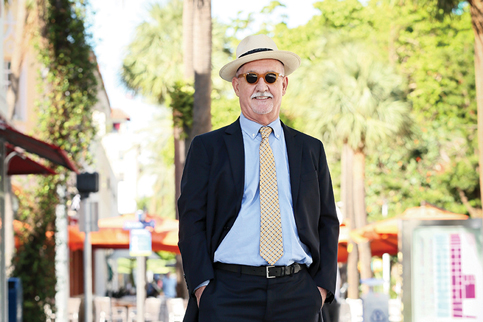 To fill vacant stores, Lincoln Road seeks pop-up businesses
MIAMI TODAY — SEPTEMBER 2, 2020 — BY KYLEA HENSELER
Cultural institutions and new retail shops may find temporary homes on Lincoln Road this winter, as the Lincoln Road Business Improvement District is hoping to bring in a series of pop-ups to boost business and fill vacancies.
The improvement district's executive committee has unanimously voted to support and promote pop-ups during the upcoming season.
"We're looking to work with local cultural organizations that may want a space on Lincoln Road during the holidays," Timothy Schmand, the committee's executive director, told Miami Today last week. Additionally, he said, the committee would like to work with retailers, including clicks-to-bricks stores that operate primarily online and want to try out a physical space.
According to Mr. Schmand, site occupancy on Lincoln Road is currently around 74%.
"We have empty storefronts," improvement district Vice President Lyle Stern told the committee Aug. 20, "(and) I think we have to use the opportunity right now to fill every single vacancy we can on Lincoln Road this year."
"We as a group," he continued, "should encourage all of our owners to make (vacancies) available for appropriate – and we'll have to define appropriate – vendors to come to Lincoln Road and occupy this space subject to some conditions."
The committee would have to discuss these conditions, Mr. Stern said, which could include requiring a security deposit or insurance policy.
"I think it's a great idea," said Mindy McIlroy, committee treasurer and president of real estate firm Terranova. "Terranova has done a lot of work on this already – we have been actively soliciting for fashion boutiques for our vacancies to fill our spaces from October through January. Just to your point, we want to have a very active holiday shopping season."
Retailers in the fashion industry, she added, may have a lot of inventory as few people shopped for spring and summer styles this year.
Indeed, Terranova's founder and Chairman Stephen Bittel told Miami Today that the corporation plans to target local and regional retailers and is already communicating with two possible short-term tenants: a plant store and a vintage boutique.
To boost business and bring people back to the street, he continued, Terranova is willing to be "uniquely flexible" when it comes to rent. At the height of business, Mr. Bittel said, rental rates were in the $300s per square foot per month. Now, he said, these rents are in the $200s, and for short-term rentals his company is talking to some tenants about making rent "the cost of occupancy plus a percentage of sales."
https://terranovacorp.com/wp-content/uploads/2020/09/5-Timothy-Schmand.jpg
322
483
admin
https://terranovacorp.com/wp-content/uploads/2022/02/TerranovaLogo-1.svg
admin
2020-09-02 14:41:36
2023-05-16 13:36:41
To fill vacant stores, Lincoln Road seeks pop-up businesses