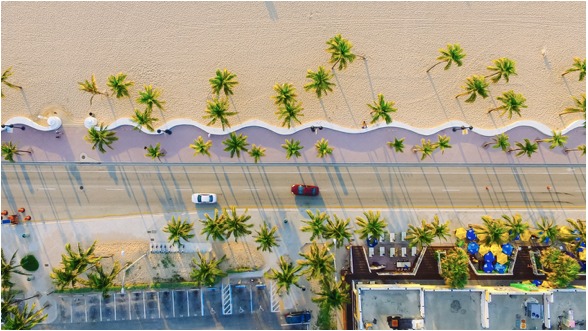 Stephen Bittel Maneuvers Terranova Through a Post-Pandemic World with $55 Million Refinance of Coral Gables Properties
THE AMERICAN REPORTER – December 21, 2021 BY JENNIFER ROSS
The coronavirus pandemic and subsequent lockdowns brought about unprecedented changes to practically every industry. While the economic cycle has shown that over time it is to be expected that there will be periods of growth followed by periods of recession, the abrupt and sweeping shutdowns across nearly every country and sector made an impact unlike any we've seen before. As we round the corner on two years since COVID-19 first came into our radar there are still many unknowns as to what shape the future will take. Will outdoor dining be a part of our future forever? Will air travel ever be as simple as it once was? Is remote work the new normal or will there be a hybrid model?
The future of commercial real estate will inevitably be affected by the answers to all of these questions, and for Stephen Bittel this has meant maintaining a delicate balancing act. As chairman of the South Florida commercial real estate company Terranova Corporation, Bittel has acknowledged that work must be done to simultaneously sure up operations and finances while still remaining flexible and open to take advantage of any opportunities that may arise. It may feel safe for many business owners during times of economic downturns to simply seek shelter and wait there to weather the storm, but Bittel has recognized throughout his four decades of work within commercial real estate that times of uncertainty can also be advantageous if one knows how to react.
Case in point, Bittel's work refinancing loans for Terranova Corporation's urban retail properties, taking advantage of the historically low interest rates that have been available. The Miami-based company recently secured a $55 million refinance of its Miracle Mile portfolio in downtown Coral Gables, consolidating and replacing loans from three lenders on 14 properties, including 220 Miracle Mile, 300 Miracle Mile and 253 Miracle Mile. Additionally, just one month earlier Terranova refinanced its Marshalls/Lincoln Eatery building in Miami Beach with a $23 million loan, with the financing for all properties being provided by City National Bank. Bittel has said that the money will be used to repatriate some of the company's capital, and also accommodate tenant improvements, as well as return some of its originally invested capital. While the economic damage caused by the coronavirus pandemic certainly isn't an ideal scenario for any business owner, by seeing the time as an opportunity rather than detriment Bittel has set himself up for success.
Who is Stephen Bittel?
As founder and chairman of Terranova Corporation, Stephen Bittel is leader of one of the top commercial real estate firms in Florida. A native of Miami, Bittel was born and raised in The Sunshine State before moving up the eastern coast to attend Bowdoin College in Brunswick, Maine. Trading palm trees and sandy beaches for fall foliage and snow, he soon adapted to the initial culture shock of transitioning from a public school education to a highly selective private liberal arts school, and was able to thrive in the academically rigorous environment. During his senior year of university he applied for and was awarded the prestigious Thomas J. Watson Fellowship, a grant that enabled him to pursue a year of independent study outside of America, and Bittel spent a year traveling abroad researching the motivations behind European investment in the United States.
CLICK HERE FOR THE FULL ARTICLE
https://terranovacorp.com/wp-content/uploads/2021/12/Screen-Shot-2021-12-21-at-11.23.29-PM.jpg
331
588
admin
https://terranovacorp.dreamhosters.com/wp-content/uploads/2022/02/TerranovaLogo-1.svg
admin
2021-12-21 13:36:48
2023-05-16 13:37:05
Stephen Bittel Maneuvers Terranova Through a Post-Pandemic World with $55 Million Refinance of Coral Gables Properties