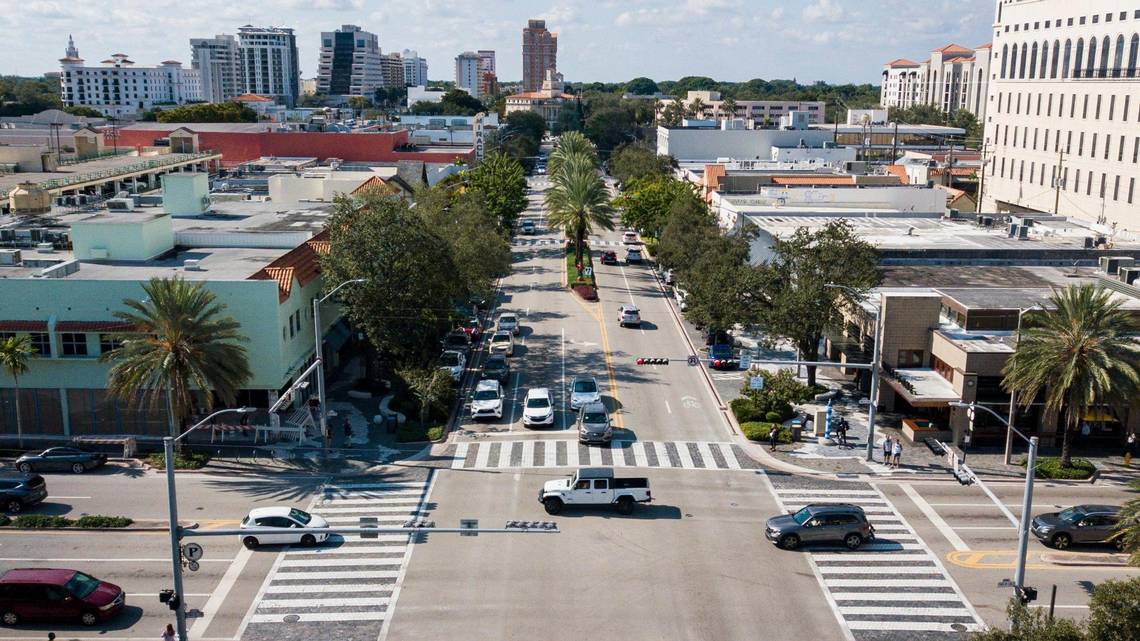 Prosperous chapter for Miracle Mile? Wave of stores, dining spots coming to Coral Gables' strip
MIAMI HERALD – December 12, 2021 BY REBECCA SAN JUAN More shopping and dining are coming soon to Coral Gables' historic Miracle Mile retail strip, signaling progress after years of struggle.
Nineteen new tenants are expected to open during 2022, according to the City of Coral Gables and commercial real estate developers and property managers Terranova and Kerdyk Real Estate, which own several storefronts.
The newcomers follow a trail of 15 other businesses that have crowded onto the commercial stretch since 2019. As a result of the bustling, the city reported vacancies in December dropped from about 13% to 9% year-over-year among the 114 storefronts along the four-block stretch from LeJeune Road and Douglas Road.
The activity follows a whirlwind of challenges, including two years of construction for a new streetscape, a slowdown in customers during the start of the pandemic and a robbery in late 2019.
"The streetscape project took longer than expected, chasing many customers away, and the pandemic had businesses at a standstill," said Manny Chamizo III, global commercial director for One Sotheby's International Realty. He owns three storefronts and manages several leases along the Mile.
"I walked the Mile in April 2020 and counted 23 vacancies and thought, 'Oh, this is not good.' Now I see that the Mile is almost filled up," Chamizo said.
Lights will go on in even more vacant spaces, including for the former Ortanique on the Mile. Three eateries are exploring the restaurant space adjacent to the Actors' Playhouse at the Miracle Theatre, Coral Gables Business Improvement District Executive Director Aura Reinhardt.
Foot traffic increased in mid-2021 as more people were vaccinated against the coronavirus and many people returned to work in nearby offices in the Miami suburb. A strong indicator its slump is over, there have been 3.4 million visitors along Miracle Mile so far this year, compared with 638,000 visitors in 2020.
Erica des Roches, owner of Veranda Plants and Gifts, opened three weeks ago.
"I live in Miami Beach. I've always loved Coral Gables, because it is so beautiful. I came across this little space and it is perfect," des Roches said. "It is a good demographic. It is a wealthy demographic. They have a disposable income that they can spend on plants. There is a need here for this type of store and affordable gifts."
Miracle Mile still has room for improvement, landlords told the Miami Herald. A slow permitting process continues to plague the city, said Stephen Bittel, Terranova's founder and chairman. It may take six months, instead of the usual three, he said, for a business to get permits approved in order to open.
https://terranovacorp.com/wp-content/uploads/2021/12/MIA_Miracle_Mile_Business_.jpeg
641
1140
admin
https://terranovacorp.dreamhosters.com/wp-content/uploads/2022/02/TerranovaLogo-1.svg
admin
2021-12-12 16:47:24
2023-05-16 13:37:05
Prosperous chapter for Miracle Mile? Wave of stores, dining spots coming to Coral Gables' strip