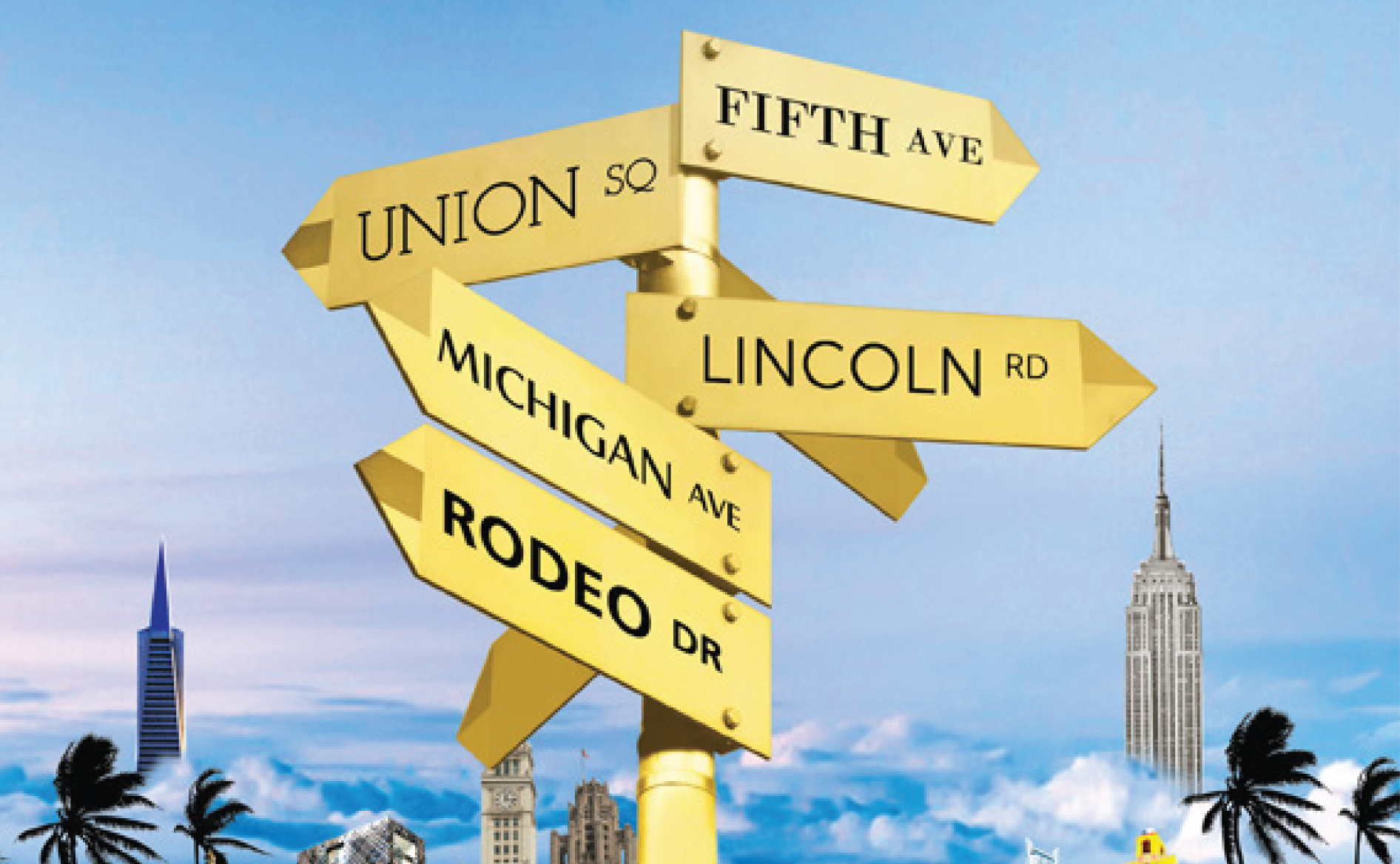 Same Stores, Different Streets
May 1, 2016 — THE REAL DEAL — BY TOBIAS SALINGER
The priciest retail strips in the U.S. are attracting identical luxury brands
The marble walls of the Fifth Avenue flagship of Italian fashion designer Valentino are a fitting touch for the world's most expensive retail neighborhood, located between 49th and 60th streets in Manhattan. A doorman welcomes customers inside the three-floor luxury store with its displays of Rockstud shoes and bags and a sculptural gray and white mosaic staircase. The trophy property's owner, Thor Equities, was welcoming bids for the retail-and-office building at 693 Fifth Avenue, which ultimately fetched $525 million.
The world's most valuable companies and individuals are investing huge sums to gain a piece of one of the top retail districts across the country. The elite neighborhoods include New York City's Upper Fifth Avenue, Rodeo Drive in Beverly Hills, Union Square in San Francisco, North Michigan Avenue in Chicago and Lincoln Road in Miami Beach.
Brands such as Armani, Tiffany & Co., Apple and Zara have a presence in most, if not all, of them and these high streets are in expansion mode as even more wealth concentrates in major cities. These five retail areas have served as shopping destinations for decades and have been heralded in movies and TV shows.
Differences in geography and architecture don't mute the overall appeal of these elite shopping hubs in delivering sales and foot traffic, said Bill Stinneford, a senior vice president at retail consulting firm Buxton.
"Within each of those areas you've got just massive amounts of people that live and work there," Stinneford said. "If you have your brand represented there, and I'm walking by every day, you're searing yourself into my brain."
Upper Fifth Avenue's average retail rent of $3,500 per square foot placed it well above the $2,399-per square foot average of the world's second most expensive retail district, Causeway Bay in Hong Kong, according to Cushman & Wakefield's survey of global retail locations released in November. Three other New York City shopping districts ranked among the top five retail neighborhoods in the country, according to their average rent: Madison Avenue (with an average rent of $1,500), Lower Fifth Avenue ($1,000) and Soho ($795).
But when considering only one elite shopping corridor per city, the top five U.S. shopping districts by average per-square-foot rent are Upper Fifth Avenue, Rodeo Drive (with an average rent of $800), Union Square ($650), North Michigan Avenue ($525) and Lincoln Road ($325), according to Cushman & Wakefield. (An alternate ranking for the fourth quarter of 2015 by CBRE put Honolulu's Kalakaua Avenue in fifth place; its average retail rent is $420 per square foot.)
Union Square's rise to become one of the country's top retail destinations coincided with the San Francisco area's tech boom, said Faith Hope Consolo, who chairs Douglas Elliman's retail division. The district now features more than 250 stores and 150 restaurants, along with over 50 hotels and 40 art galleries nearby.
North Michigan Avenue, the 13 Chicago blocks known as the Magnificent Mile, encompasses more than 460 stores and 275 restaurants. Manhattan's Upper Fifth Avenue luxury shopping hub stretches from Saks Fifth Avenue at 49th Street beyond the Plaza Hotel to 60th Street by Central Park. Rodeo Drive, in Beverly Hills' tony 90210 zip code, sits on three blocks extending from Santa Monica Boulevard to the Beverly Wilshire hotel on Wilshire Boulevard. Lincoln Road's mile-long, pedestrian–only plaza from Alton Road to Washington Avenue draws visitors wishing to shop or lounge.
Fashion's leading brands
A constant for all five top neighborhoods is the starring role played by fashion retail's biggest names. For example, all five elite districts — with the exception of Lincoln Road — have Bulgari, Cartier, Chanel, Louis Vuitton and Tiffany & Co. stores. "When you look at these areas, you have a high concentration of wealth that is walking by," Stinneford said. "You definitely see a lot of the same tenants that are in those spots and a lot of them are high-end retailers."
As Consolo pointed out, "High rents equate to high profile, and for many brands it becomes the location of their flagships." Thus, "if you want to build the brand, you have to have a major space in that market."
These elite shopping hubs also share a few high profile retail options that are slightly less upscale: All five save Rodeo Drive have a Zara shop and have or will have a Victoria's Secret branch.
Consolo predicted a major Apple Store would soon land on Rodeo Drive so that all five districts would be similarly outfitted with the tech giant. A planned summer launch of a $50 million Union Square flagship at 300 Post Street will supplant Apple's current venue three blocks away. Apple is also relocating its presence on Chicago's Miracle Mile, from 679 North Michigan Avenue to 401 North Michigan Avenue, and Foster + Part-ners, the firm behind its new San Francisco flagship, is designing the store.
Unique design
Architecture serves to provide each of these districts distinct looks even as their store offerings are becoming more homogeneous. Indeed, the Magnificent Mile is known for its architecture as a result of the contributions of city planner Daniel Burnham; John Hancock Center's architects Skidmore, Owings & Merrill; and the Drake Hotel's design firm Marshall and Fox, as well as others. Rodeo Drive and Union Square both have Frank Lloyd Wright buildings to add to their architectural stature.
And Miami Beach's Lincoln Road is known for its Miami Modern architecture, or MiMo look, as imagined by Morris Lapidus. In October Miami Beach lawmakers approved a master plan drafted by James Corner Field Operations with the aim of creating more prominent signage for Lincoln Road's pedestrian mall and adding other enhancements.
"Lincoln Road is very unique because it captures a very large mix of people," said Isabel Castilla, project manager at James Corner Field Operations. "It's kind of this melting pot of all these different groups of people that creates this great public space and great people watching."
Acquisition fever
The luxe Miami Beach district attracted a bombshell investment in September. Amancio Ortega, the owner of Zara and Inditex and the second richest person in the world by Forbes magazine's tally, bought 1001– 1035 Lincoln Road for $370 million, a block with Apple and Gap stores and a planned Nike shop. The neighborhood already had a Zara store. Thus, it seems, a retailer is making his presence more pronounced in an elite shopping hub by buying buildings.
In 2014, Ortega purchased the Gucci building in Beverly Hills at 347 North Rodeo Drive for $108 million. Bloomberg then estimated his global real estate portfolio to be as large as $10 billion. "He happens to have the opportunity to pay a little more if needed," said Jay Luchs, a Newmark Grubb Knight Frank executive vice president who was part of the team representing the seller in the deal with Ortega's real estate company Ponte Gadea. "He and buyers like him, they're buying real estate for future generations. This kind of buyer can pay more because they're not looking to sell."
Chanel paid $152 million to buy 400 North Rodeo Drive, its current 11,500-square-foot location, the Los Angeles Times reported in December. The $13,217-per-square-foot acquisition broke the 2013 record set by LVMH Moët Hennessy Louis Vuitton with its $85 million purchase of the Louis Vuitton store at 295 North Rodeo Drive.
The shopping habits of foreign travelers are making such purchases by Rodeo Drive tenants increasingly common, said Nima Bararsani, first vice president of retail in the Los Angeles area for CBRE. "You can hear stories every day of wealthy people going there and spending a lot of money," he said. "You get exposed to a global wealthy elite that's coming in and seeing the brand."
As New York continues to attract wealthy tourists and foreign condo buyers, the price for the Fifth Avenue properties owned by Thor and its partners soar even higher. Thor is in contract to sell the Valentino building at 693 Fifth Avenue to an undisclosed buyer for $525 million for and is fielding offers for another office-and retail building at 590 Fifth Avenue, which it bought for $90 million in 2007. A representative for Thor declined to comment for this story.
Yet, with the global economy in flux, Upper Fifth Avenue and its counterparts in California, Illinois and Florida share the risk of raising their price ceiling too high. Industry observers will be watching to see if kinks in the global economy start to put a damper on retail real estate prices, said Peter Braus, managing principal of the retail and office brokerage Lee & Associates NYC. "Anything that comes to market in and around Fifth Avenue has sold at an incredible premium," Braus said. "It's going to be interesting to see whether we've hit a peak or not. There's a little bit more anxiety out there."
Ripe for expansion
The stellar shopping districts are on the rise in another way — by extending their geographic reach. The Lincoln Road shopping district is primed for expansion, with the master plan's proposal for two gateways to usher people into the pedestrian mall's 400 and 1100 blocks and new spaces for fashion shows and music. The plan calls for restoring the prominence of Morris Lapidus' original designs by moving the outdoor seating to better reveal his sculpture-like "follies" and creating several music and performance spaces in those areas.
The master plan also paves the way for retailers to set up back entrances on Lincoln Lane North like those of the Apple, Gap and Athleta stores, Castilla said; this might even encourage new stores to open on Lincoln Lane North. "What the master plan is doing is really looking at those pioneers and saying, 'This is really a great way to expand the district,'"Castilla said.
The other posh shopping districts are also on the verge of expansion. A couple of blocks south of the Upper Fifth Avenue district, the stretch called Fifth Below Saks may soon receive an upscale shopping center. This would mimic the upscale mall in Union Square known as the Westfield San Francisco Centre, as well as others on Rodeo Drive and three luxury malls along Michigan Avenue. In addition, Extell Development Co. is mulling a plan to build an upscale mall and other options for a 10-building assemblage with Fifth Avenue frontage from West 46th and 47th streets, according to the New York Post.
Chicago's Magnificent Mile will secure a luxe outpost a few blocks farther south when Apple relocates its flagship store to the Pioneer Court property on the Chicago River. And Tribune Media announced in October it's seeking bids or partnership offers for the Tribune Tower nearby, and Oxford Capital Group is redeveloping the historic London Guarantee Building into the LondonHouse hotel.
Expansion will be natural for all five of the posh retail areas, said Gene Spiegelman, Cushman & Wakefield's head of retail services for North America. By 2050, 65 percent of the world's population will live in urban areas, a rise from 1950's 30 percent.
"The retail keeps expanding and the quality keeps expanding. It's a common denominator," Spiegelman said. "The growth in both domestic and international tourism — it drives the demand factor."
Editor's note: The story was updated May 19 at 9:02 a.m. to reflect that Thor is in contract to sell 693 Fifth Avenue to an undisclosed buyer for $525 million.
https://terranovacorp.com/wp-content/uploads/2016/07/RealDeal-May16-Pic2.jpg
1168
1892
admin
https://terranovacorp.com/wp-content/uploads/2022/02/TerranovaLogo-1.svg
admin
2016-05-01 15:49:43
2022-09-30 14:47:03
Same Stores, Different Streets