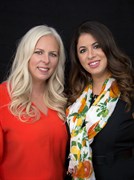 Terranova's Dynamic Duo Lend Their Talents to The National Parkinson Foundation
MIAMI BEACH, FL – August 4, 2015 – If there is one thing Terranova has an abundance of, it's influential women. This month we once again praise two of our finest, Mindy Mcilroy and Karen Maerovitz for being awarded a prestigious honor and for making such a large impact on our community.
Mcilroy, executive vice president and Maerovitz, commercial associate at Terranova are no strangers to positively impacting their communities. Mcilroy was recently named a Southeast woman of Influence by the Real Estate Forum and Maerovitz is on the committee of the South Florida chapter of 100 Women Who Care. This month they have been given the honor of leading the Moving Day® Miami board as co-chairs. Moving Day® Miami is an annual fundraising walk for Parkinson's in support of the National Parkinson Foundation that highlights movement and exercise as a symbol of hope and progress because of its essential role in treating Parkinson's disease.
Terranova's constant involvement with the National Parkinson Foundation led them to be the 2015 presenting sponsor of Moving Day® Miami. In 2014 team Terranova, led by Mcilroy, beat all past national records and raised over $400,000. To spearhead fundraising this year, Terranova launched the "30 Shades of Blue" campaign, hosting 30 events in 30 days to "fun" raise for the National Parkinson Foundation raising close to $30k in one month.
"We are honored to have Mcilroy and Maerovitz join the 2015 Moving Day® Miami Committee. They both bring an innovative approach to building awareness and raising funds for Parkinson's disease," says Dreema Stokes, Moving Day® Miami Manager. "They are equally committed to our mission to make life better for people living with Parkinson's."
Moving day® Miami is scheduled for November 15 so come out and support the cause and don't forget to congratulate Mindy and Karen in person. Please visit www.movingdaymiami.org for more information on upcoming events and information on how to donate to the National Parkinson Foundation.
CLICK HERE FOR THE PDF PRESS RELEASE
Terranova Corporation, South Florida's leading commercial real estate advisory firm, currently is involved with commercial real estate assets for its clients and its own portfolio valued at more than $1 billion. The company offers complete commercial real estate services, including asset and property management, leasing, tenant representation, acquisitions, dispositions, financing, construction management and development services.
###
https://terranovacorp.com/wp-content/uploads/2015/08/b9724c8f-4ac8-4e3b-9132-ff2b16abdb9d.jpg
180
134
admin
https://terranovacorp.dreamhosters.com/wp-content/uploads/2022/02/TerranovaLogo-1.svg
admin
2015-08-04 11:04:36
2023-05-16 13:34:31
Terranova's Dynamic Duo Lend Their Talents to The National Parkinson Foundation