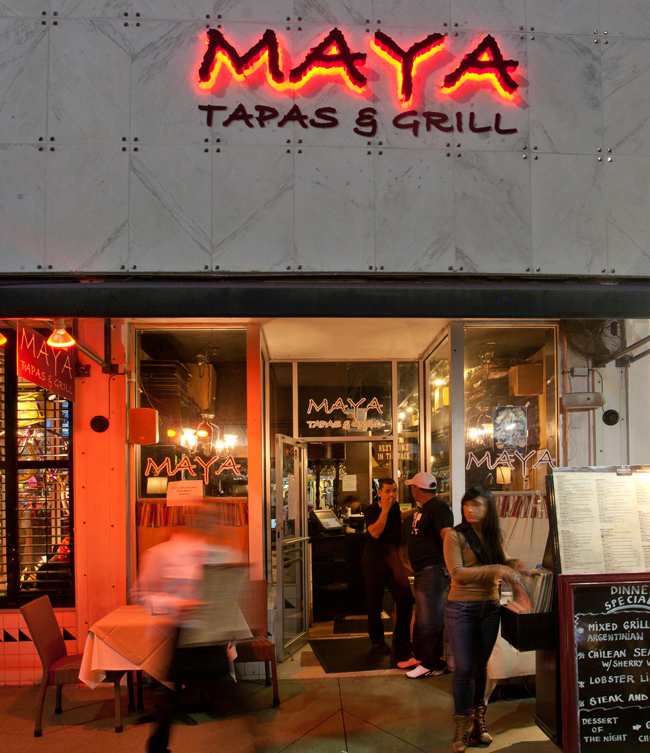 July 15, 2014 – As the summer heats up, so does the miami brunch scene. Whether you're looking for a hearty meal or a light bite, miami's boozy brunch offers it all. But how do you choose the perfect brunch spot to soak up the sun, quench your thirst and satisfy your hunger? Look no further than the famed lincoln road. While sipping your mimosa and savoring the local fare you can take in the scene that only the legendary lincoln road has to offer. Here are our five top choices to satisfy your brunch cravings.
Maya's Tapas & Grill has been serving the best argentinean and european cuisine for over a decade in miami beach. This family-driven restaurant serves classics like three egg omelets and french toast to hearty plates like the full maya breakfast or chorizo argentino breakfast. Committed to serving great food in a stylish and relaxed atmosphere. Maya's tapas & grill keeps guests coming back for more.
Puntino Dal Toro offers an italian twist on classic brunch items from eggs benedict on filone bread topped with cream parmesan cheese to a shrimp omelet with smoked salmon and feta cheese. In addition to these mouthwatering breakfast items. Puntino also quenches your thirst with brunch classics like bloody mary's and mimosas. But if you're really craving your morning cup of joe. Try adding a dash of bailey's. Kahlua. Or brandy. Taste a bit of Italy and stop by puntino dal toro. One of miami beach's best italian restaurants.
Sushi Samba provides a unique blend of brazilian, peruvian and japanese cuisine and entertainment. Whether you're looking to try the infamous three-course price fixed menu or ordering a la carte, sushi samba has all your brunch needs. Try the popular doce de leite french toast with seasonal berries and whipped cream or the south american frittata of linguica, asparagus, heart of palm and manchego cheese. If breakfast is not your thing, you can also enjoy an assortment of sashimi or sushi. With a large menu selection and accompanying drinks, sushi samba will satisfy all your brunch cravings.
Havana 1957 takes you back to the glorious and glamorous days of old cuba of the 1950s. Looking for a bite to eat to go alongside your cuba libre? Try their traditional cuban breakfast with three eggs, your choice of sausage, ham or bacon alongside croquettes, breakfast potatoes, cuban toast, salad and fresh squeezed orange juice. Enjoy a day in cuba at havana 1957.
Khong River House is true to the mekong region with its humble tribute to food, flavors and asian traditions. The cuisine reflects both ancient and new recipes from their multicultural team. Khong's sunday brunch menu includes some of their lunch classics and the popular gi breakfast containing sweet sausage, sunny side up lake meadows farm egg, steamed minced pork, cilantro and a toasted french baguette. Stop by this weekend for a true taste of asian culture and cuisine.
Whether you're looking to satisfy your hunger from a long night on miami beach or heading out for a day with family and friends, lincoln road's brunch scene has it all. Enjoy tasty delights, delectable beverages, and the best people watching on the world famous lincoln road.
Do you have a lincoln road brunch favorite? Let us know and tweet us @terranovacorp.
https://terranovacorp.com/wp-content/uploads/2015/10/maya-acadia-hi-res-photo-by-robin-hill-c-20.jpg
753
650
admin
https://terranovacorp.dreamhosters.com/wp-content/uploads/2022/02/TerranovaLogo-1.svg
admin
2014-07-15 11:32:45
2023-05-16 13:33:56
Lincoln Road Brunch