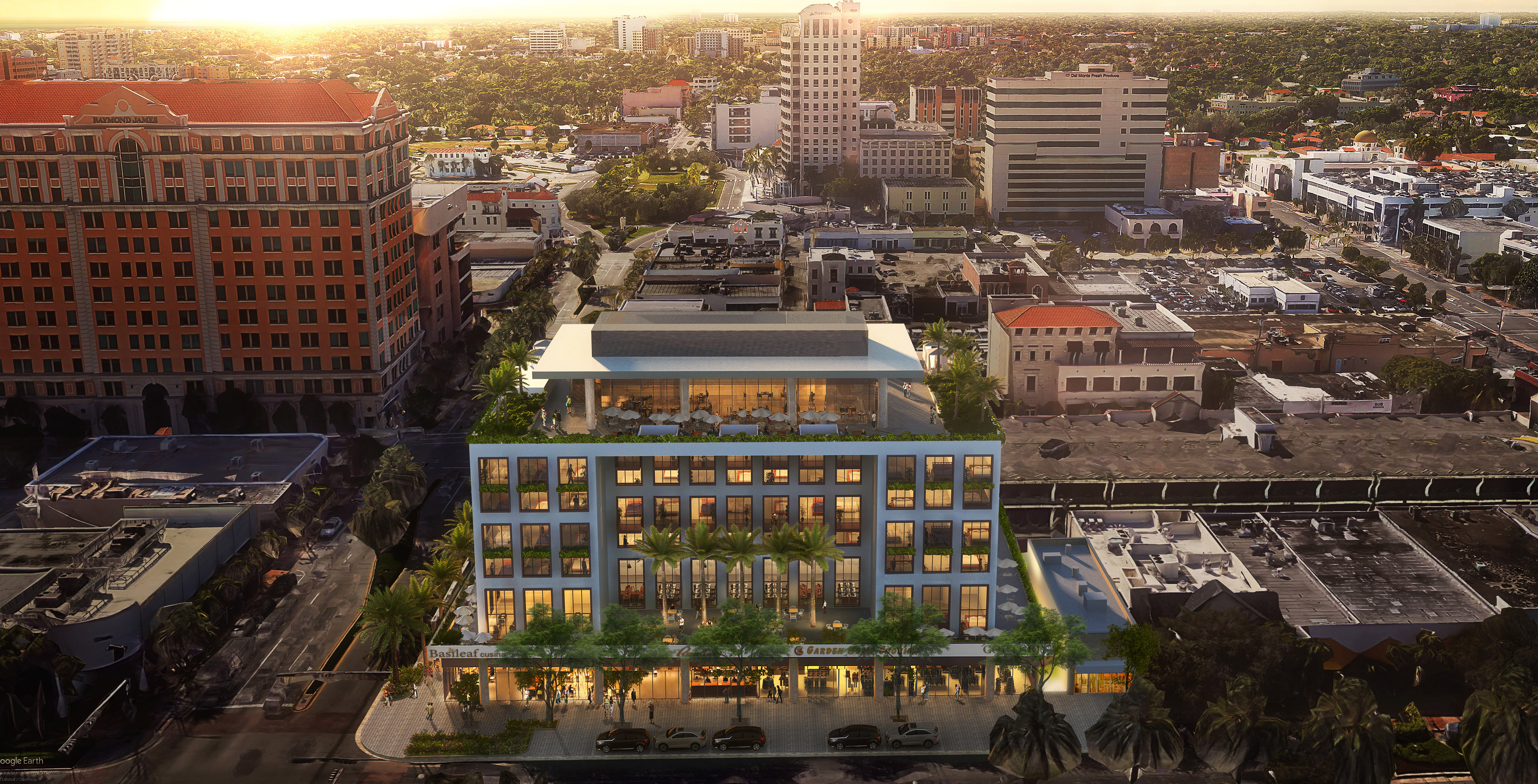 Hotel proposed on popular Coral Gables street
SOUTH FLORIDA BUSINESS JOURNAL — JULY 24,  2019 — BY BRIAN BANDELL Terranova Corp. wants to redevelop a retail buildling on Miracle Mile in Coral Gables into a hotel with ground-floor retail and restaurants.
The heart of the city's downtown and entertainment district, Miracle Mile recently received a streetscape enhancement.
On July 26, the city's Development Review Committee will consider plans for a six-story building at 200 Miracle Mile. The 23,940-square-foot site is owned by Gables Miracle Mile, LLC, an affiliate of Miami Beach-based Terranova. It currently has a two-story, 46,646-square-foot retail building constructed in 1950.
The project, the Mile Hotel and Shops, would total 102,061 square feet. It would have 120 hotel rooms in 65,283 square feet and 36,778 square feet of retail and restaurants. The developer would purchase transfer of development rights from nearby properties to boost the density.
Arquitectonica designed the project, which would cost about $20 million, according to the application.
"There hasn't been a new hotel built in Coral Gables in a long time," said Stephen Bittel, chairman of Terranova. "As the business community has grown all around it, it would be the best use to continue the resurgence of Miracle Mile."
Bittel said Terranova would hire a hospitality partner to operate the hotel. It would carry a national brand for the reservation system, but carry a local boutique name, he added.
Most of the retail and restaurant space would be on the first two floors, including outdoor dining terraces on the second floor. There would also be a restaurant and bar on the rooftop, along with a pool, a fitness center, and an outdoor deck.
"It is important when people look down on it from taller building they see something active and attractive," Bittel said.
There would be a pedestrian paseo on the ground floor.
Terranova also requested a waiver to provide no on-site parking for the project. Bittel said the hotel will sign an agreement with the owners of nearby parking garages so the hotel staff can use them for valet parking. There will be an off-street vehicle drop-off area at the hotel.
Bittel said most visitors to urban hotels take ride-sharing companies or taxis. Demand for hotel parking is generally higher at night, when office parking garages are mostly empty, he added.
As for the current tenants in the retail building, including Relax the Back, Conde Contemporary, Copper Bar, and Le Macaroon, Bittel said he would do his best to accommodate them. Terranova has 10 properties on Miracle Mile.
The Mile Hotel and Shops would ultimately need City Council approval.
CLICK HERE FOR THE FULL ARTICLE
https://terranovacorp.com/wp-content/uploads/2019/07/bittel-hotel-V01-12.06.2019.jpg
2550
5000
admin
https://terranovacorp.dreamhosters.com/wp-content/uploads/2022/02/TerranovaLogo-1.svg
admin
2019-07-24 13:38:37
2023-05-16 13:35:29
Hotel proposed on popular Coral Gables street